Every three years Voice Weavers choir travels internationally to represent Australia in Acappella performances, to learn from other international choirs of the highest calibre and make a cultural exchange with singers from all around the world.
Japan
5th - 22nd April 2019
We will be visiting the cities of Osaka, Kyoto, Miyagi, and Tokyo where we will perfrom with local choirs and musicians. Highlights include a Music Festival in Osaka, a Charity concert for those affected by the 2011 Tsunami in Miyagi, a Reqium Concert in Tokyo. If you are interested in joining Voice Weavers choir to travel and perform in 2019 you will need to learn the music we are singing on the tour.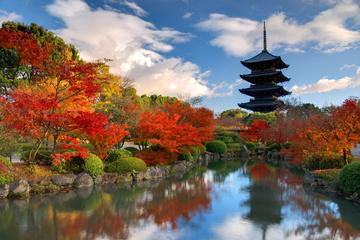 We encourage everyone to experience the thrill of joining VW on an international tour but we do require singers to meet a level of commitment in learning the music and attending the rehearsals. Voice Weavers sings at a high standard and we will have up to 30 songs in our repertoire for the tour. Most of these songs are our traditional Pop choral arrangements but we will also be learning songs in Japanese as well as joining in a performance singing parts of a Latin mass. Final decision on which songs you are able to sing with the choir will rest with the Artistic Director.
Singers wishing to join us for the tour will need to achieve
100 preparation points
by doing the following:
10 points each - Standard Wednesday night rehearsals at Tweed Heads 6:30pm - 9:00pm. We would encourage prospective singers to attend as many rehearsals as possible. There will be four Japan tour rehearsals in 2018, Oct 24th and 31st and Nov 7th and 14th. In 2019 there will be 10 rehearsals starting on the Wed the 23rd Jan and ending Wed 27th March. There are 13 regular Japan Tour rehearsals and one Wed workshop (Oct 24th see below).

20 points - Japan Workshop, Oct 24th. Our first workshop specifically designed for singers going to Japan.

30 points - Weekend retreat 2018. Each year VW starts singing again after the Xmas break with a Weekend Retreat in the Numinbah Valley, Fri night to Sunday lunch time. This gives the choir a major head start on the years learning material and should not be missed, both musically and socially. This retreat will include workshops in Japanese language, history and culture so you can better appreciate your visit.

5 points each - You can qualify individual songs with the Artistic Director. You must sing your part accurately to qualify.
We have prepared a special membership fee that includes the Weekend Retreat including food, the 14 Tour rehearsals, the farewell performance, a VW Polo and walkout hat. This fee is all inclusive, no discounts are available.
---
Previous Tours
below

In 2016 the choir travelled to Sochi Russia to compete at the World Choir Games, the Olympics of the choral singing world. To break the journey we went via Beijing and Moscow. Our thanks to the Moscow Oratorio Choir who hosted our performance at the Hermitage Gardens and joined us on stage for a heart felt performance of Bogoroditse Devo and to Viki Smirnova who volunteered to give us a behind the scenes tour of Moscow. Hugs to Yulia Akulova our choir wrangler in Sochi.

If you want to get an idea of what we did and saw on our tour, here are a few links to some video compilations made by some of our members.

Part 1 Beijing (3mins) | Part 2 Russia (3mins) | WCG Sochi (6mins) | Gorge yourself (33 mins)

| | | | |
| --- | --- | --- | --- |
| | | | |
| Sochi - Russia | World Choir Games | Sochi Olympic Village | Sochi by night |

In 2013 the choir travelled to Hoi An, Vietnam for the 3rd Vietnam International Choral Festival.
| | | | |
| --- | --- | --- | --- |
| | | | |
| Silver | Hoi An by night | My Son | Hoi An Resort |
In 2010 the choir travelled to Shanghai, China, to sing at the world fair that was being hosted in the city that year.
| | | |
| --- | --- | --- |
| | | |
| Shanghai - China | Shanghai Shopping 2010 | Voice Weavers 2010 |